---
Patron
---
Jan III Sobieski is patron of our school from 27th October 2008.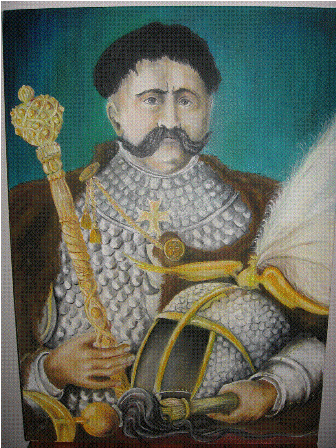 John III Sobieski, (17 August 1629 - 17 June 1696) was one of the most notable monarchs of the Polish-Lithuanian Commonwealth, from 1674 until his death King of Poland and Grand Duke of Lithuania. Sobieski's 22-year-reign was marked by a period of the Commonwealth's stabilisation, much needed after the turmoil of the Deluge and Khmelnytsky Uprising. Popular among his subjects, he was also a brilliant military commander, most famous for the victory over the Turks in the 1683 Battle of Vienna. For his victories over the Ottoman Empire, he was dubbed by the Turks the "Lion of Lechistan."
Jan Sobieski was born 1629 in Olesko, a small town near Lwów in Poland (now Lviv, Ukraine) to a notable noble family de Sobieszyn Sobieski of Clan Janina. His father, Jakub Sobieski, was the Palatine of Ruthenia and Castellan of Kraków; his mother, Zofia Teofillia Daniłowicz was a granddaughter of Hetman Stanisław Żółkiewski. After graduating from the Nowodworski College in Kraków, young Jan Sobieski graduated from the philosophical faculty of the Jagiellonian University. After finishing his studies, together with his brother Marek Sobieski (1628-1652), Jan left for western Europe, where he spent more than two years travelling. During that time he met major political figures: Louis II de Bourbon, Charles II of England and William II, Prince of Orange, and learned French, German and Italian, in addition to Latin. This proved to be vital during his later military career.
Both brothers returned to Poland in 1648 and volunteered for the army during the Khmelnytsky Uprising. Jan founded his own banner of cavalry and commanded it in the rank of Rotamaster. After the Battle of Zboriv, the brothers were separated and Marek died in Tatar captivity the following year. Jan was promoted to the rank of pułkownik and fought with distinction in the Battle of Berestechko. A promising commander, Jan was sent by King John II Casimir to Istanbul in the Ottoman Empire as an envoy. There, Sobieski learned the Tatar language and studied the Turkish military traditions and tactics.
After the start of the Swedish invasion of Poland known there as "The Deluge", Jan Sobieski was among the Greater Polish regiments led by Krzysztof Opaliński, Palatine of Poznań which capitulated at Ujście, swearing allegiance to the Swedish king Charles X Gustav. However, in less than a year he returned with his unit to the Polish side, and after April 1656 he fought for the Polish king.